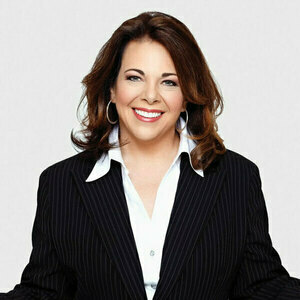 Carolyn Strauss
Special guest
Carolyn Strauss has studied and worked with some of the foremost experts in the world on gender communication, transacting in the marketplace and voice dialogue. Through years of continuous practice, study and learning, Carolyn brings unmatched expertise to serve her clients. Her passion to create workplaces that support team members, the executive suite and the goals of the business is evident, and she communicates her hard earned knowledge to each of her clients with a keen sense of humor and an engaging delivery.
Through a lifetime of entrepreneurial ventures, a successful modeling career, years of retail experience and a television career, Carolyn has a varied background where she has been exposed to nearly every type of enterprise. This unique set of experiences has honed her ability to work successfully with almost any type of business.
What you may not know about Carolyn Strauss:
Carolyn is the host of the successful podcast, "Another Day Above Ground". Listen at www.anotherdayaboveground.com.
She co-created THE program to run successful blended meetings. Go to www.brilliant100.com.
Graduated, B.F.A. from Emerson College in Boston (with a short stint at the University of Madrid!)
Enjoyed a highly successful 20-year career as a top plus-size fashion model with the Ford Modeling Agency, while living in NYC.
Became the most requested Women's Fashion Show Commentator in the US, working with every major department store for 20 years.
In 1997 Carolyn launched The Carolyn Strauss Collection, a multi-million dollar apparel company that sold over $160 Million over an 18 year period, exclusively available on the Home Shopping Network.
Carolyn is a top rated Vistage speaker.
Carolyn was a judge for the Miss America pageant.
Carolyn is the author of 5 books.
Carolyn grew up in Marblehead, MA
Carolyn has spent time in all 50 states in the U.S.
Carolyn loves hot yoga.
Carolyn believes that a good day contains chocolate.
Carolyn Strauss has been a guest on 1 episode.
November 5th, 2021 | 42 mins 58 secs

Today on Podcasting Stories, we're talking with Carolyn Strauss, professional speaker and co-host of a podcast called "Another Day Above Ground".

In this episode, we learn more about Carolyn's fascinating background as a serial entrepreneur, clothing model, professional speaker, and podcaster, as well as her time as CEO of a clothing brand that was regularly featured on the Home Shopping Network for more than a decade.

It's a great conversation about the lessons learned in both business and life, some the hard way.

We then take a deep dive into her podcast experience, and she has an abundance of advice and suggestions for those considering launching a podcast and a lot of great ideas and tips to make it more successful and enjoyable.